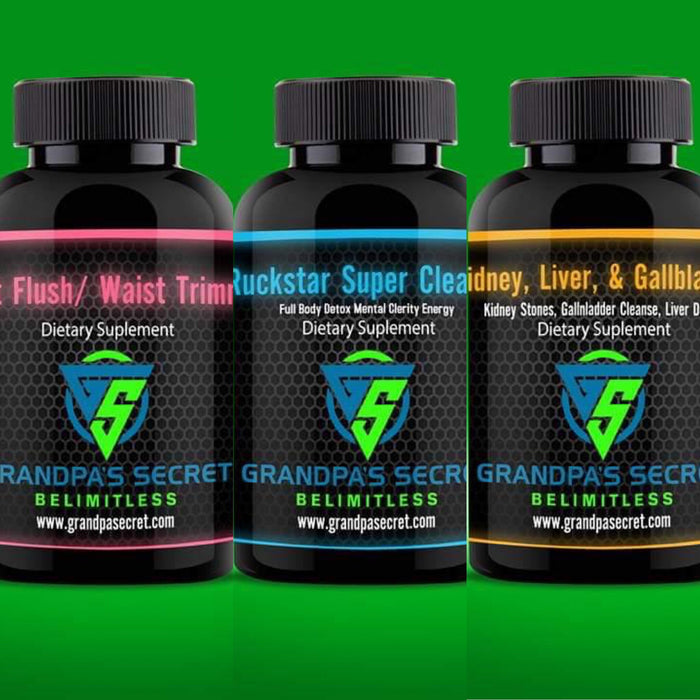 Fat Flush package
Save

0

%
Save %
Original price
$165.00
-
Original price
$165.00
Comes with a pack of three : fat flush, super Ruckstar cleanse, and kidney liver and gallbladder cleanse to help flush the fat and restore your body's metabolism to its optimum ability.
By revitalizing the system and speeding up the thyroid, herbs such as Black Walnut Hulls, Chickweed Herb, Cleavers Herb, Echinacea Angustifolia Root, Fennel Seed, Gotu Kola Herb, Greasewood, Hawthorn Berry, Kelp, Licorice Root, Papaya Leaf and Safflower Petals, Anise Seed, Cascara Sagrada Bark, Cayenne, Cinnamon, Clove, Coriander Seed, Cumin Seed, Dandelion Leaf, Dill Seed, Dill Weed, Dried Mustard Seed, Fennel Seed, Garlic, Ginger Root, Gymnema Sylvestre Leaf, Parsley Leaf, Spirulina Algae and Yohimbe Bark ,  this formula is designed to be supportive of essential nutrient requirements while additionally helping to suppress hunger, eliminate excess water and flush the bloodstream of waste. This blend has been effective in overcoming brain fatigue, suppressing appetite and strengthening the glands balance blood sugar levels, detoxify the body and aid the metabolic process to help burn fat.
Disclaimer:
all natural supplements are not meant to replace any medications or protocol prescribed by your doctor.
please consult your own physician to see if natural supplements are for you and listen to your body.
this regimen is enough to last for 2-3 weeks